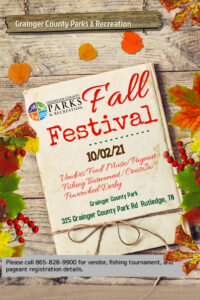 Grainger County Parks and Recreation is extremely excited to announce that we are hosting an Inaugural Grainger County Parks & Recreation Fall Festival!
The all-day festival will be held at Grainger County Park on Saturday, October 2, 2021 and FREE to all visitors! Various types of music will flow through the festival from an outdoor stage. We plan to bring the best in country, bluegrass, and gospel music for a free to the public concert.
Also, throughout the day, various activities such as a Fishing Tournament, Pageant, Power Wheel Derby, Cruise-In, Silent Auction, and Singo will be scheduled along with the opportunity to purchase food, drinks, and snacks for the family. Train rides, bounce house, and obstacle course activities will also be provided for children. The festival will end with a fireworks finale!
Please contact the Parks & Recreation office at 865-828-9900 or by email at graingerparksandrec1@frontier.com with any questions regarding festival activities or registration.